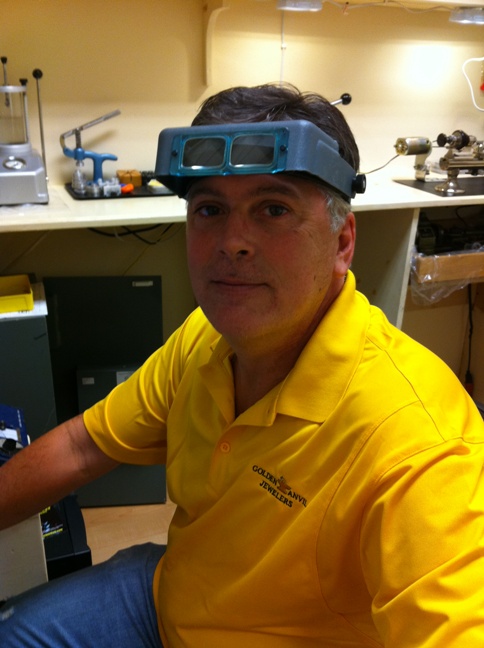 Daniel Manica
Diamond Setter
Danny has been setting diamonds and gemstones for over 35 years. He has worked for some of the most well known jewelry manufacturing companies in New York including David Webb, Jose Hess, and Elan.
Danny has proficiency in all aspects of stone setting. Specializing in micro pave, royal pave, and French pave. Here is an overview of the major types of stone setting:
Pavé (puh-vey)
A pavé set jewelry piece consists of numerous small round brilliant cut diamonds crowded onto a metal surface. Each and every diamond is securely held in position with four small prongs. In some designs, a single prong can be used to hold two adjacent stones creating an impressive array of sparkling and bright diamonds. Often when pavé setting, the setter will use a special microscope in order to achieve the best results.
Prong
Prong set will have either four or six "prongs" or "claws" spaced evenly around the diamond. The diamond setter will apply pressure and using a specially designed tool, gently bend and close the prongs across the girdle (rim) of the stone securing the diamond within the metal of ring or other piece of fine jewelry.
Bezel
The diamond bezel setting is also known as the European setting, as it creates a clean and fine air to your engagement ring or other piece of fine jewelry. Bezel setting is best described as a thin wall or frame surrounding the entire upper edge (girdle) of the diamond. This frame can be as thin as 1.00mm, depending on the size of your diamond. The beauty of a bezel set is how it enhances the diamond or gemstone, allowing light rays to rebound out of the ring through the diamond's table giving a beautiful result to its unique fire and sparkle.
Channel
A row of channel set diamonds appear to be suspended inside a gold "channel" around the jewelry. Adjacent diamonds are actually touching each other creating a flow of stones with no metal separating them. As in pave settings, only the most skilled and experienced craftsmen can produce a perfect channel set engagement ring where each and every stone is lined up evenly and symmetrically creating a uniform and clean look. Jewelry designers and manufacturers tend to create pieces with channel setting using princess cut diamonds, but many diamond shapes are able to be set in a channel.
Let us turn your older diamond ring into a modern work of art that you will enjoy for years to come.
Danny Manica